A Prime Opportunity to Join the Martin City Business Community
Former Rooms that Bloom property offers a rare chance for the right vision.
The 110-year-old railroad house may look like a residential estate but it's zoned for business, and for the first time in three decades, it's available for rent.
Jess & Jim's Steakhouse restaurateur Mike Van Noy and his wife Debbie Van Noy, are the new owners of the Rooms That Bloom house, and both said they didn't think twice about buying the property the second it came up for sale.
"I hadn't been inside for probably ten years," says Mike Van Noy. "But I didn't need to see inside to know I wanted it. That's a valuable, important piece of Martin City."
"There's so much more to the house than you can see at first glance," says Debbie Van Noy. "It's really something special."
The property was in the artful hands of Krista Sloan for 31 years before passing to the Van Noys. Sloan poured her love of exquisite decor into the house and it shows. As the Martin City Telegraph noted, the property's historic profile perfectly matched her passion for European antiques and gifts, and it was an elegant shopping destination in Martin City for over 31 years. When Sloan decided to sell the property, her neighbors were ready to step in to make sure it stays in the right hands.
"We've all known each other for so long and share a love of our community," says Debbie, sitting next to Mike at a window table inside Jess & Jim's with a view of the corner lot they now own. "We didn't want someone to just come in and tear it all down. We're all really happy about the way things worked out."
Ambience, Heritage and Room to Work.
Built around 1910, the storybook property is a Martin City original, complete with fixtures and landscaping that follow roots back to the railroad's heyday. The house is almost as close to the tracks as Jess & Jim's, and standing there had us thinking about the railroad workers who once called the old house home. 
Debbie says the sound of trains chugging by is a nice addition without being a distraction. "The house is very well built. It doesn't shake when trains pass. You can hear them, but you don't feel them."
Step inside the front door and enter a space full of charm. The shape, size and definition of every room varies, giving each a slightly different personality. Oak floors were put in long ago to cover the pine originals, a sign of stepped-up refinement way back when. The paint and wallpaper echo traditional prairie house decor across eras. And if these walls could talk!
"So many stories. Many people passing through here have stories to tell about living nearby and watching the community grow up around the house," says Debbie. "The interior is in really good shape. We'll make a few repairs but there's no need for gutting."
Walk upstairs with the sweet sound of creaky yet solid steps that lead to rooms full of unique architecture. The original ceiling, shelving and stepped flooring designs are still intact. Stained glass and other subtle upgrades add finesse to the practical layout perfected by the original builders. And you'll love the elevated views of Martin City's main drag!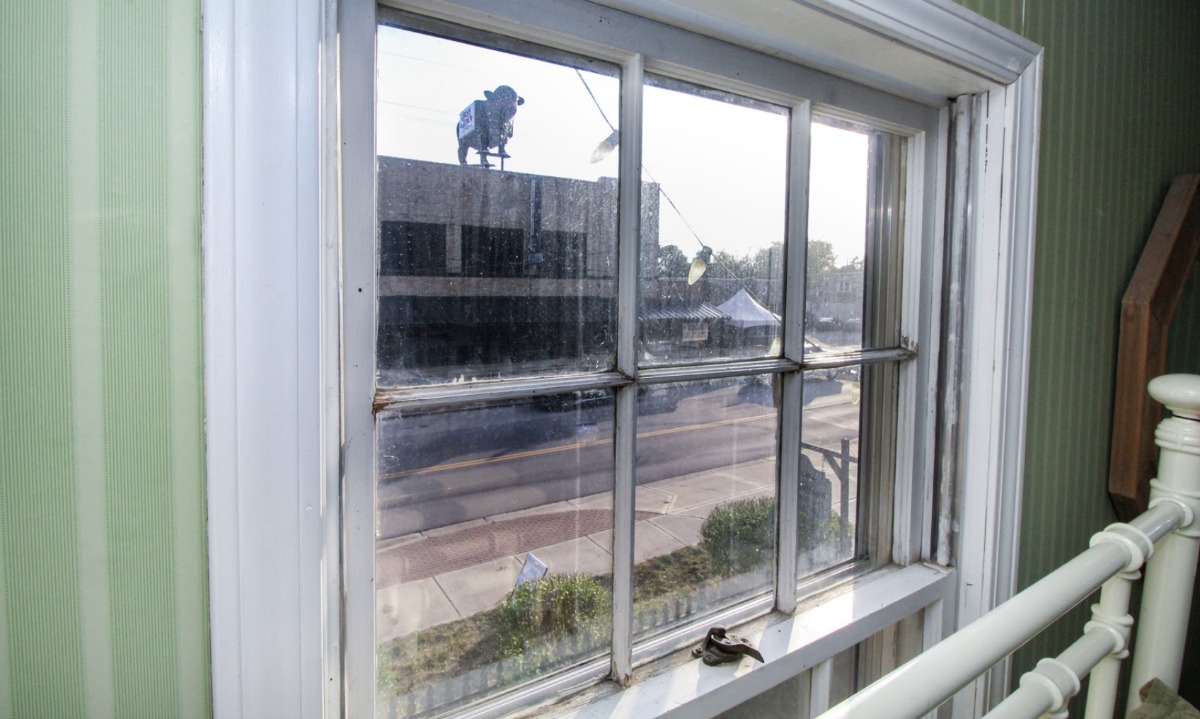 Head back downstairs, through the generous kitchen space toward the back of the house and a picture window opens up a new world, allowing natural light to pour in and your curiosity to pour out. A courtyard patio added decades after the house was built fits in so well you would think it was part of the original plan. The courtyard opens up to even more secluded space paved with Diamond bricks to the east.
Just behind the patio, stepping stones lead you to a smaller, yet spacious cottage that stands alone, waiting to store inventory or undergo a simple transformation into a storefront or maybe an office. The cottage has plenty of lighting, heat and air conditioning for year-round use.
A still smaller structure is nestled behind the cottage as a handy storage space and a little two-story barn is right next to it. Everything fits neatly on the land and it's all laid out with a precise sense of balance. Nothing inside or outside seems crammed, forced or tacked on.
The property is full of potential, and Debbie and Mike are flexible with their ideas about who might move in next. "We're open to renting out the entire property to a single business or splitting it up to multiple businesses that are good matches for each structure."
Could a hometown bakery that enriches the neighborhood's culinary culture be right for 13442 Cherry Street? How about a bed and breakfast that invites you to escape the city and rediscover small-town roots? Maybe a wine bar, furniture boutique or another eclectic retail experience that builds on the legacy of Rooms That Bloom. Or how about a pet daycare or boutique that naturally works paw-in-paw with Doctor Libby's Martin City Animal Hospital right across Cherry?
"We welcome any good ideas and we're already considering a few," says Debbie. "Ideally, we want a business or businesses that bring more people to Martin City and further our revitalization effort. You know, there are apartments planned right over there along the edges of Martin City. That's something to think about in terms of the possibilities for the property."
Rooms That Bloom is still winding down the business but the Van Noys are already seeing a lot of interest. Whoever winds up in this special place will certainly find themselves at home here, and part of a growing community committed to building a future built on tradition. 
If you think your business might be a good fit, you should probably move as fast as a Martin City train before the opportunity is gone! Please contact Mike or Debbie Van Noy if you're interested in renting the property. 816-941-9499 or email [email protected]