On August 2, 2015, a beautiful Sunday morning, approximately 146 people met at 520 E. 132 Terrace, Martin City Baptist Church, to celebrate the 50-year anniversary of Christian ministry and community service in the Martin City area. Attendees included more than 20 charter members, two former pastors, and many former members who had moved away for various reasons.
The church began with a small group of individuals meeting for several years in the home of Bill and Ruth Ray. As the numbers increased, the group moved from the Rays' home to a plot of land purchased at 133 Terrace and Locust. The Martin City Baptist Mission started August 1, 1965, sponsored by the First Baptist Church of Grandview. On the plot of land, the first part of the church building was built. As the mission evolved into a fully chartered church, several additions were made to the building.
Through the years the church has served the community in many ways – as a meeting place for girl scouts, boy scouts, public forums, and as a polling place. There has been assistance with free clothing and food items, service to Forest Avenue homeless shelter, and devotional services and Bible Study at the local nursing home, now known as Brook Chateau. There have been many free festivals and concerts, and the church library conducted a summer reading program for the neighborhood children for many years. Vacation Bible School is still a favorite event.
The  August 2nd celebration included the congregation being led by Tim Burk in singing beautiful music; memories shared by the church's first pastor, Dr. Bob Springate and his ventriloquism buddy, Danny Driftwood; remarks from Reverend Jacob Lynn Snapp (pastor 1993 to 2003); a presentation of a 50-year plaque by Reverend Gary Jones from the Blue River-Kansas City Baptist Associations; and concluded with a celebration meal in the fellowship hall.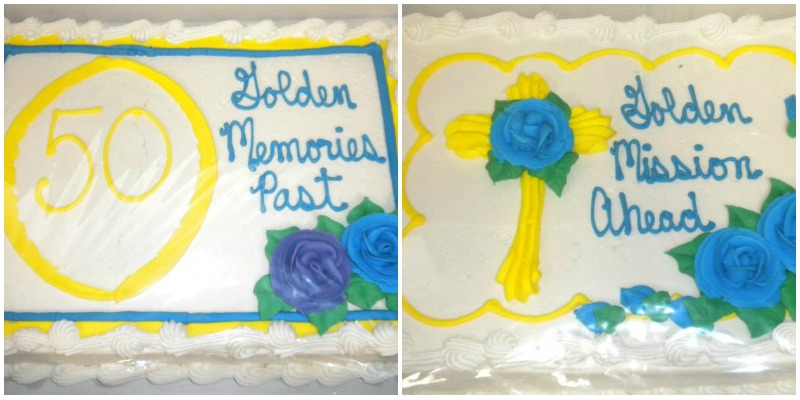 The highlight of the day's activities was the removal of a time capsule buried 25 years ago by Royal Ambassadors, boys who were about  8-10 years old at the time. Three of those boys (men now) were in attendance. The time capsule included a newspaper from that day, some "finish the sentence" papers the boys had completed, and various badges and trinkets that they wanted to share.  Plans are being made to bury another time capsule for another time.
The theme for this celebration was "Golden Memories Past – Golden Missions Ahead" which means we are happy and excited about the past, but we are still in the business of Christian ministry. God isn't finished with Martin City Baptist Church yet!  The goal for the future, under the leadership of Pastor Don Kabel,  is "Golden Missions Ahead"
View all photos from the 50th Anniversary celebration on Martin City Baptist Church's Facebook page
Please visit the Martin City Baptist Church website for more information.