Entrepreneur's dome oasis turns his business into a year-round attraction.
Howard Barewin loves entertaining people on an island of paradise in Martin City. That's why the end of warm weather every year made him so unhappy. The first chilly winds that whipped through the neighborhood always signaled the shutdown of his business.
"I just hated seeing everything break up," says Barewin. "My employees had to hunt for off-season jobs every year and my customers took a break they didn't really want."
In 2015, Barewin figured out a way to preserve his sandy escape and keep Volleyball Beach bouncing through the dead of winter. Since then, he's seen plenty of proof that his bold solution has paid off.
"Winter has been a game-changer," says Barewin. "It's made Volleyball Beach a year-round business."
December, January, and February used to defeat Volleyball Beach, leaving it buried under the usual snow and cold that kills a beach vibe. But the dome has won players over.
"Registrations go really, really fast. Most time slots are filled within an hour or so after we make them available online."
Think about that. People competing for a chance to play volleyball in Martin City at a time of year when most people are more inclined to hunker down next to a fireplace. Just how serious is the competition to secure a spot?
"It's intense," says Barewin. "Sign-ups this year crashed our website within the first ten minutes. We had to increase our bandwidth."
A Cool, Winter Wonderland
The smash success of the winter season is a direct result of Barewin's ambitious idea to capture and protect the Volleyball Beach experience inside a giant, temporary dome. Yes, he could have just constructed a permanent building and moved things inside.
"But that would feel more like a gym, and that's just not us," says Barewin. "The openness of the courts when the dome is put away really defines the special experience we offer. We just needed a way to extend that experience through the winter months. The heated dome space is perfect."
He makes it sound so functional, but there are some clear bragging rights involved that draw attention to both Volleyball Beach and Martin City. The dome is the largest sand volleyball dome in the entire country and the largest dome of any kind in Greater Kansas City. It's 40 feet tall and wraps itself around a space bigger than a football field. Eight of Barewin's 14 volleyball courts are sheltered inside with extra room for tables, chairs, and spectators.
Barewin only needs a day or so to put the dome up, but don't get the wrong idea. It's far more than just a big tent. The Volleyball Beach dome weighs over 24,000 pounds that require the support of special air pressurization. It takes 30 people to unroll and seal it. How it all works is a little hard to believe even when you see it in person. The doors sort of resemble airlocks you might imagine on a spaceship or submarine.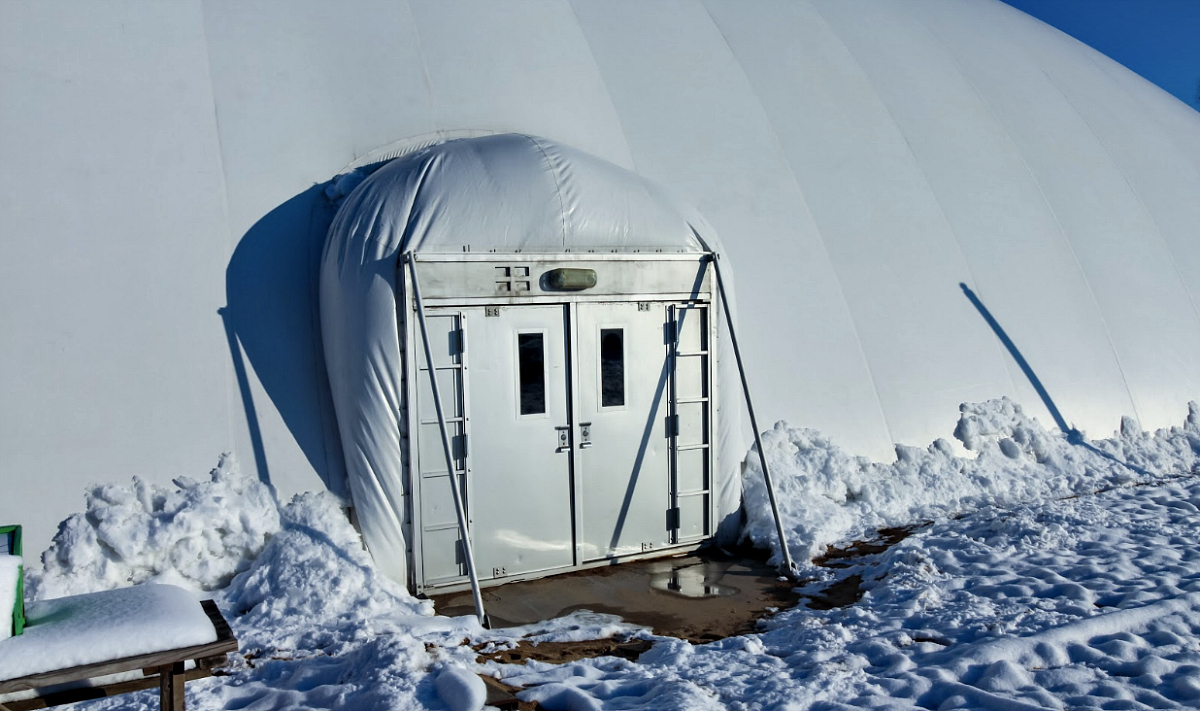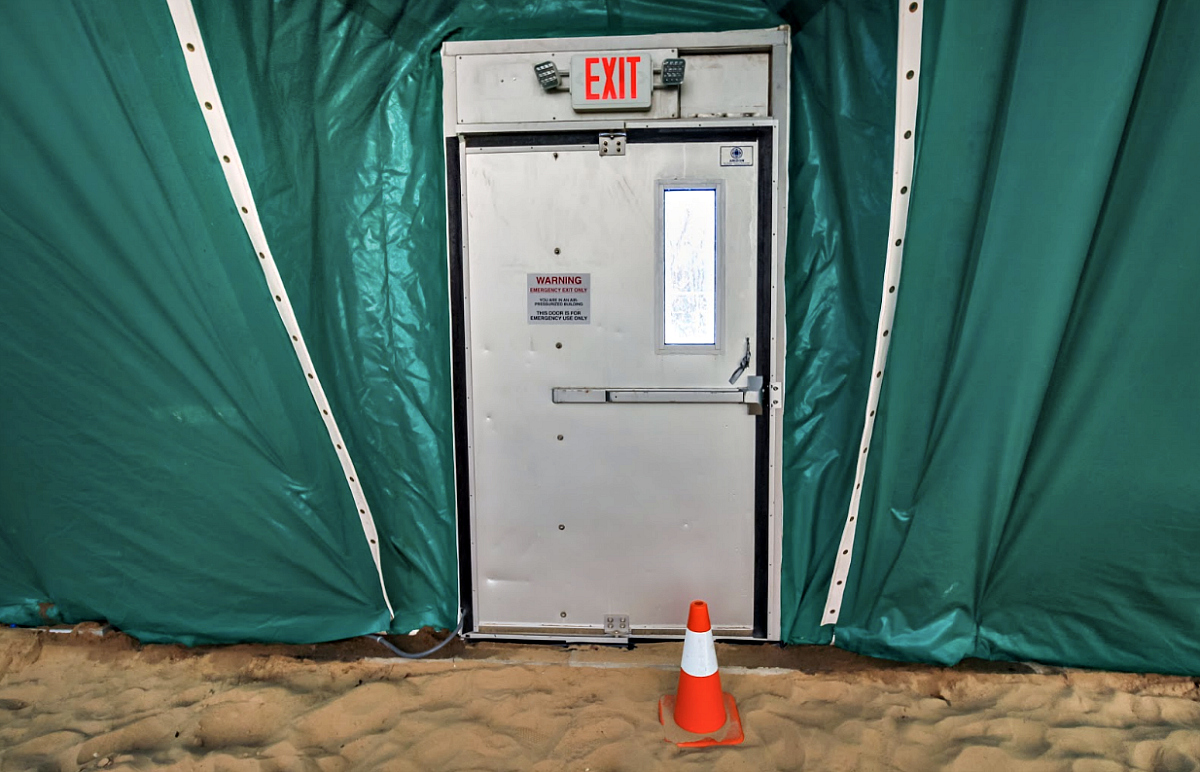 The dome's material invites natural light to shower the courts and creates some radiant heat, too. However, the main source of heat is a huge, high-efficiency natural gas burner. The atmosphere feels perfect inside the dome, and also a little strange just feet away from snowbanks outside.
"It's warm, well-lit and there's no wind," Barewin explains as he looks around his massive white bubble. "I get the biggest charge out of watching someone walk in with a puffy winter coat on and shorts. We love defying winter."
A Beach Life Like No Other
Ask people why they love Volleyball Beach and you'll likely hear different answers. Barewin says that's because the business unites a variety of key features into a single, special experience.
"You have to come here and just feel it all come together. There's a certain energy that comes from friendships, competition, the music, the staff, the food, and the drinks. It all just works here in a way that it doesn't work anywhere else."
A wide-open deck sweetens the beach scene when the dome comes down in the spring and summer, and even non-athletes might be tempted by a Happy Hour that spikes all others, according to Barewin.
"Half-price drinks and appetizers go a very long way here. It's a better deal than you're probably used to and you can't beat the deck for a great place to kick back after work. I really do think we have the best Happy Hour in Kansas City."
Volleyball Beach makes room for players of all skill levels and there's plenty of space if you just want to eat, drink and watch. Players stick together and network through the fun they share, organizing tournaments around birthdays, vacationing together and even playing other sports together. It seems the business is the perfect place to meet new people and of course, social media loves it.
"People started connecting with Volleyball Beach on social media for the relationships in a way that far exceeded the impact of those who were just stopping by to try us out," says Barewin. "A Facebook group kind of adopted us and suddenly we were in the heart of a passionate, active community. It's just amazing."
Those connections can be a powerful source of charitable fundraising. Volleyball Beach hosts some of the largest charity tournaments in the Midwest. Imagine playing for fun and raising money at the same time for organizations like the Rose Brooks Shelter, Special Olympics, Susan G. Komen, and Sherwood Center.
"We also host all kinds of small charity tournaments organized by individuals," says Barewin. "Saturdays and Sundays are often dominated by teams playing for good causes."
Barewin's dome is just the latest addition to an experience he's carefully refined over the decade he's owned Volleyball Beach. When he first took over, the learning curve was exhausting as he put together a game plan that would lead the business to its potential. He fine-tuned registration processes and tournament coordination, lightened up the atmosphere and handpicked a small staff that was big on personality.
"My employees are an important part of the Volleyball Experience," says Barewin. "They really enjoy our customers and shape the personality of the business overall."
Of course, the drinks are positively beachy. When it comes to liquor, Volleyball Beach is known for netting what's hot and what's next.
"Our bartenders mix up new drinks from time to time or put new spins on traditional drinks. They have a lot of fun with it and our customers appreciate it."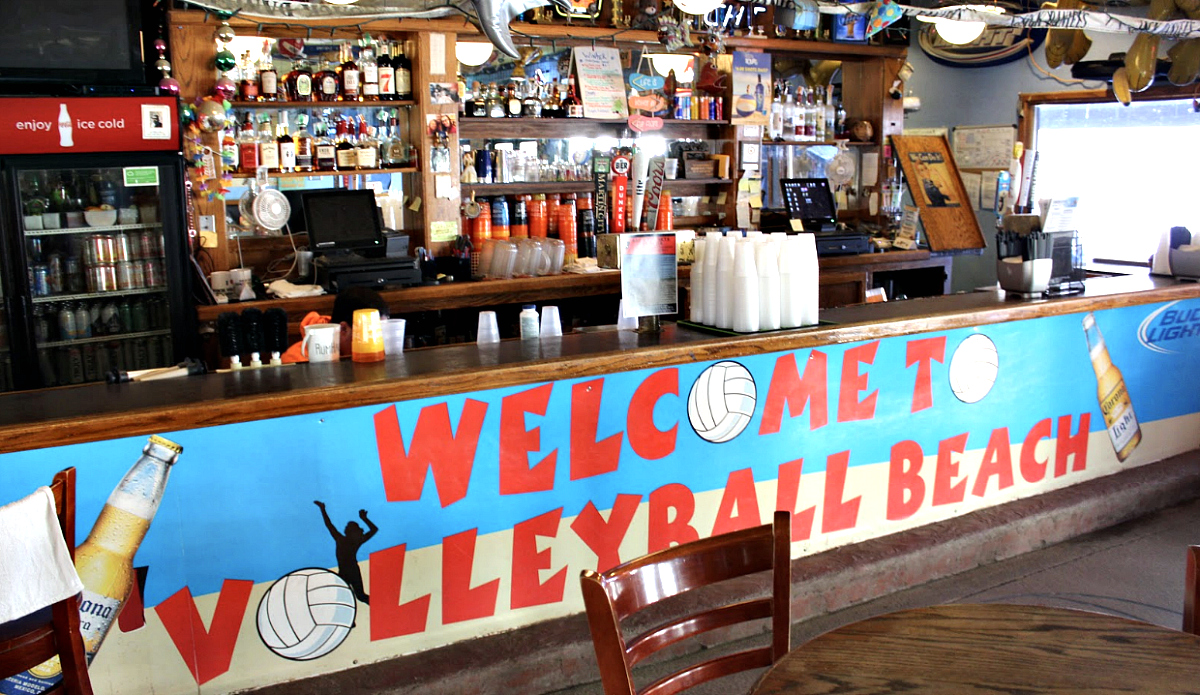 And don't expect the same old boring bar food. Aspiring restaurateurs passing through the business a few years ago left behind an influence that continues to flavor Volleyball Beach's menu.
"We can make chicken in so many ways. Just try anything we serve. It's all really good."
Competition, atmosphere, entertainment, food, drinks, and even a clothing line — that's quite a package. But Barewin's talent for knowing how to strike the right balance is the real secret to Volleyball Beach's success. Tens of thousands of fans wouldn't change a thing about the escape he's crafted, including its Martin City location where Volleyball Beach is seen as an icon in a cultural renaissance.
"I love what's happening in Martin City and I'm really proud of how much our customers support neighboring businesses. We're lucky that we're part of this upward trend in the neighborhood. We've contributed to it and we're benefitting from it."
Barewin also contributes to Martin City's revitalization as a long-standing member and current Vice-Chair of the Martin City Community Improvement District (MCCID). He welcomes new businesses that can help our community thrive in the years ahead.
"Martin City is just such a great place. It has so much to offer and it's growing. I think many visitors come here to look around. People like variety and when they have a chance to browse an area like ours, all businesses can benefit."
So, after you stroll out of Volleyball Beach, shaking sand (or snow) off your shoes, be sure to stay and explore Martin City. Other year-round businesses await you, and you'll love the atmosphere, even outside of the dome.
Congratulations on your winter success Howard, and thanks for helping Martin City be all it can be!