What is the Martin City Community Improvement District (MCCID)?
Martin City is a neighborhood in south Kansas City, Missouri. It is not its own municipality. In 2004, many businesses in Martin City became frustrated by the lack of infrastructure improvements and services in the area so they joined together to form a Community Improvement District (CID). A CID is a specific area of non-residential properties, whose owners choose to pay an additional tax to help fund services and improvements within the district's boundaries.
View Martin City CID boundary map >>
To create the Martin City CID, we were required to organize a board of directors and submit a five-year plan to the City of Kansas City, Missouri describing the purpose of our district, the services it will provide, the improvements it will make, an estimate of the costs of those services and improvements, and the maximum rates of property taxes and special assessments that may be imposed within the district. A majority of property owners in Martin City agreed to and signed the petition, and it was officially adopted as an ordinance by the KCMO City Council on January 23, 2005.
---
How the Martin City CID Is Financed
The Martin City CID generates revenue from an annual property tax assessment on each parcel located within the CID boundaries and a 1/2 cent retail sales tax on CID businesses. Those businesses generate approximately $50M+ in sales tax revenue annually for the city of Kansas City, Missouri. Businesses located in the CID >>
A few things our CID pays for…
District signage
A security program with nightly patrols
Street sweeping and snow removal
Streetscape beautification and bike racks
Hanging flower baskets & maintenance
Community events that bring customers to the area
Business development initiatives that attract new companies to Martin City
MartinCity.org website and social media accounts
Monthly Martin City email newsletter
Administrative fees to the South Kansas City Chamber of Commerce for management of our CID
Legal fees to keep our CID compliant with City and State requirements
Professional fees for accounting and audits
We also work with the Economic Development Corporation of Kansas City to offer state and local incentives to businesses that want to locate or expand in Martin City, and with Jackson County, the City of Kansas City, Missouri, and the Land Clearance Redevelopment Authority of Kansas City to fund new roads, sidewalks, traffic signals, water and sewer systems, and other infrastructure improvements that spur growth and development in Martin City. 
As a self-taxing entity, the Martin City CID is able to generate revenue for projects that might not otherwise be funded by KCMO. It also allows us to get to work quickly rather than going through the City's traditional channels where we would have to compete with all kinds of other interests and priorities.
Take 135th Street for example. If we had relied on the City alone without any help from Martin City business owners, we might still be looking at the old, crumbled pavement today. Instead, the Martin City CID purchased the right of way for the entire section of 135th Street that runs through Martin City and raised money to get the project off the ground.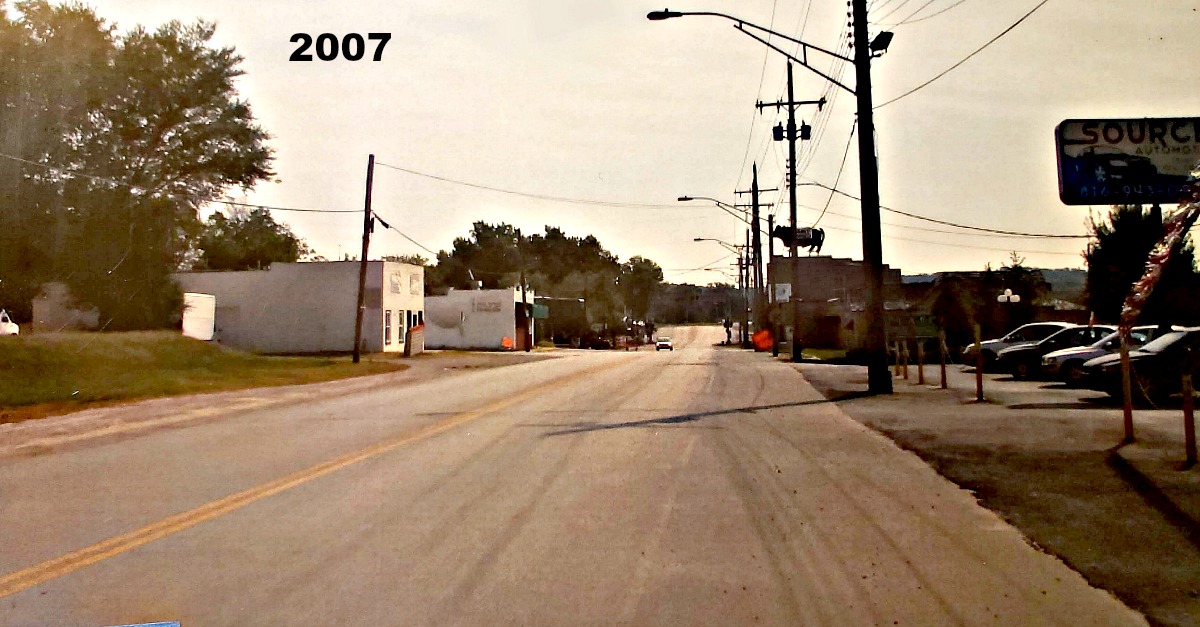 Read more about the 135th Street public improvement project >>
With all three phases of 135th Street construction complete, we're now focused on improving Holmes Road and are working diligently with KCMO Planning to secure funds for the project.
Holmes Road Improvements include:
Widening the two-lane road from Blue Ridge Boulevard to 137th Street to three-lanes with a center turn lane
Addition of a 5-foot sidewalk down the east side
Addition of a 10-foot multi-use trail on the west side
New curbs and gutters
New street lighting
Minor extension of 135th Street east to accommodate future developments
Learn more about the Holmes Road project>>
---
Martin City CID Leadership
The Martin City CID is governed by a Board of Directors made up of seven property owners with locally owned businesses in Martin City. They have a direct stake in the success of the community because they are Martin City. This is their community. Each person serves a 4-year term. We also have the support of the South KC Chamber, who was hired in 2018 to manage the Martin City Community Improvement District.
Participation is the Only Path to Potential
If you own a business or work in Martin City, you are a stakeholder in our success and we strongly encouraged you to participate. Monthly MCCID board meetings are open to the public and are held on the second Thursday of each month, from 8:30 am-10:00 am, at Jess and Jim's Steakhouse. Meeting minutes are posted on our website as soon as they are available.
---
New Responsibilities, Opportunities, and Possibilities Keep Progress Rolling Along
Read about our goals for the future>>
See available commercial real estate in Martin City>>
---
Want to learn more about Martin City's history?
Martin City was full of activity in the roaring 20s! We had a train depot, a hotel, a blacksmith shop, and a general store to serve local residents. A bank was built in 1911 and by 1926, bank assets were over $59,000. There were around 250 people living in Martin City in 1926, with 80 students and two teachers working in the local school. Read more>>
---
For more information about the Martin City CID, please contact Vickie Wolgast, the CID's District Manager. 816-308-1023 or [email protected]
---
What's been happening in Martin City?