Monday, May 17, 2021 – 3:00 PM – 7:00 PM
Martin City Community Tree
200 E 135th Street, KC, MO 64145
May is Law Enforcement Appreciation Month and we invite you to join us at Martin City's Community Tree (in front of the KC Running Company Store) to celebrate the many law enforcement professionals committed to keeping our community safe.
"We want you to know us when you see us around the neighborhood," says KCPD Officer Mary McCall, one of Martin City's Community Interaction Officers from the South Patrol. "This is a wonderful opportunity to meet local police officers and get to know us in person."
If you haven't met Officers Mary McCall and Aaron Whitehead, you're missing out on two of our community's biggest fans. Both McCall and Whitehead are long-time veterans of the Kansas City Missouri Police Department and have worked closely together for over 17 years protecting South Kansas City and the Martin City area.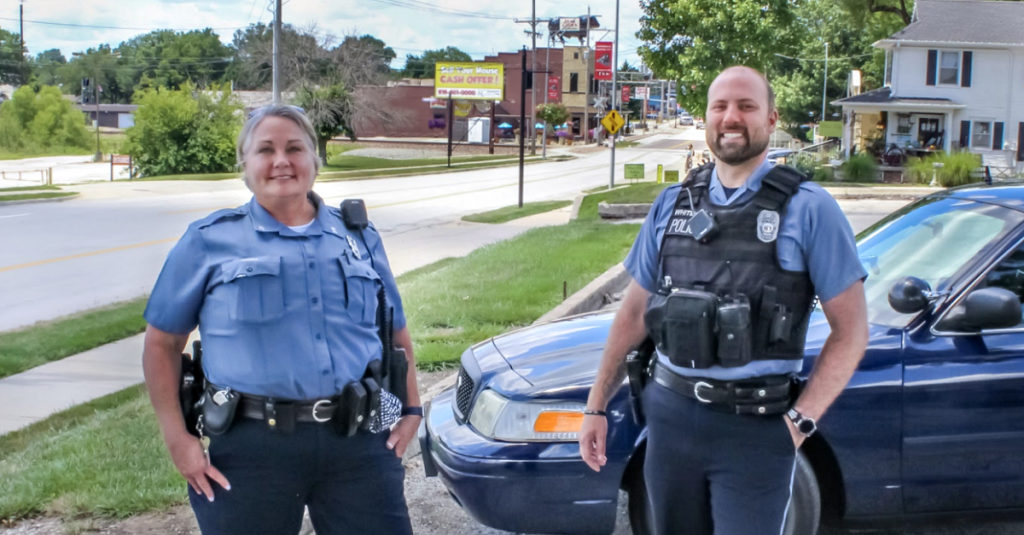 KCPD Community Interaction Officers Mary McCall and Aaron Whitehead
ALL KANSAS & MISSOURI POLICE DEPARTMENTS ARE INVITED TO PARTICIPATE IN THIS LAW ENFORCEMENT APPRECIATION EVENT!👮🏽‍♂️👮🏻👮‍♀️👮🏽‍♂️
Bring the Kids to Experience a Mini-Public Safety Playground!
Kids will have a ball exploring police cars, police motorcycles, and special service safety vehicles
Learn how public safety technologies are used to help officers fight crime
Want to thank a police officer? Bring a special card or drawing, or make one while you're there!
Free refreshments will be available
Donate a Backpack to Kids at Martin City Elementary School!
Almost 800 students attend Martin City K-8 School in Martin City and KCPD Officers will be collecting as many backpacks as possible during this four-hour Appreciation event to donate to the school.
We're already planning to help them out and hope you can donate a backpack (or two!) so students at Martin City K-8 will be ready for school! 🎒💙🎒💙🎒💙🎒💙
Hope to see you all there! #CommunityStrong
If you have questions about this event, please contact Officer Mary McCall, Martin City's Community Interaction Officer. (816) 672-2828 mary.mccall@kcpd.org